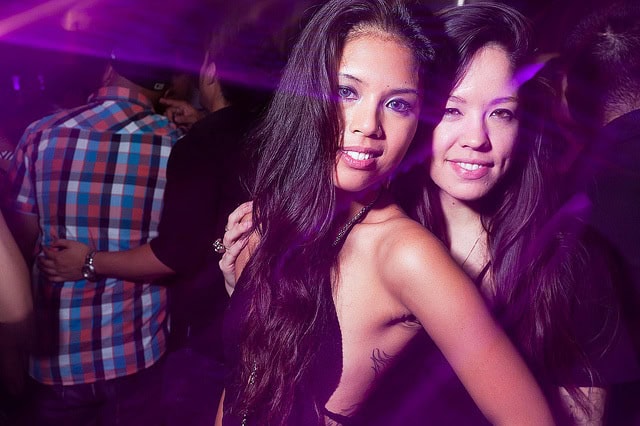 By Marcus Neo | Dating Advice for Men
The quantity of girls you meet is going to be solely dependent your ability to meet women. If you get good at approaching girls, you'll will increase the number of girls you meet. If you develop good communication skills, it'll will help with the converting your leads to dates, awesome sex and girlfriends. So, where can you meet women? Let's take a look at what meeting women really entails like.
Where to Meet Women: The Warm Market
The warm market is how 98% of men meet girls. The majority of male uses the warm market, aka his social circle for his dating opportunities.
Social circles are mostly made up of old friends, colleagues or school friends. Cultivating great social circles is a good strategy for the guy who's patient enough to cultivate and upkeep these social relationships. I personally know of guys who are naturally great a keeping and maintaining different social circles with groups of guys and girls.
If you hit off with a stranger and assuming you're someone who got things going for yourself, then just simply ask them if they can join them for that event.
You can simply just say: I'm completely new here, can I join you guys?
To get invited to private parties, events, all you got to do is to just ask. However, before you ask, you can't be a dickhead. This means having an ability to make others feel comfortable and appreciated around you.
If you're looking to start or keep your own social cricle, start organising or start joining people for hang out sessions. You can also be the leader of your own social circle. Instead of joining and fitting into other people's social circles? Why not create your own, with the current people you have in your life?
I made this mistake when starting out. I merely put myself in other people's social circles. I resisted the idea of 'bossing others around' initially as dislike the idea that I might be controlling others. However, as I got better at social skills, it's hard not to take note that you're the one that people subtlety looks to make decisions, I naturally become more of a social leader.
You can be the one to organize, plan and execute on events. This can be your core group of friends that you hang out with on a weekly basis at the bar.
You can start inviting girls and her friends you approach (that aren't romantically available to join you for your event):
'Hey, you're really nice to talk to, let's keep in touch, my friends and I are having drinks this weekend, why don't you come and join us?'
The downsides of relying on social circles is that they tend to be extremely limiting to the people in the group. Hitting on girls in your social circles may also cause friction in Asian cultured friends groups because after all, Asia is a tightly knitted society. For EG. If you and your friend likes the same girl in the same social group, there may be some friction involved.
University is THE PLACE to be social, meet new women and it's one of the last time in one's life that you're put in an environment where there's an endless supply of dating opportunities. In hindsight, I regretted not taking advantage of my first year in University.
You may choose to ignore your social life and focus on your grades up in University. That might work for you for your grades, however, that's not going to do much for you for your social life and your dating life.
I noticed that many Singaporeans a lot of weight on academic success and forget that University is one of the last periods of one's life where you get to meet A TON of people in one environment. I'm also surprised that many of these students don't leverage their University platforms to expand their dating pool.
There's research that our relationships contribute to a huge percentage of our happiness. So yes, loosen up and make new connections. Stop being too cool for school. Joining a co-curricular activity in University is one of the best outlets to expand your dating opportunities, you can join a co-curricular activity that you're interested in.
The downsides of relying on social networks in University is that you may inflicted by politics. It can also be demographically limiting as you're exposed only to your University network.
There's an old (read: Asian?) saying: one should not shit where they're eating. Basically, don't date your colleagues. I find this limiting. Firstly, I've dated my colleagues. It's doable. It's how you go about it that matters.
Here's how to do it without any drama: If you guys are not exclusive, there's no need to announce it to anybody. Just don't. Keep your ego in check. Keep it under wraps so that she won't look like a slut in other's eyes.
You'll also need to handle the relationship responsibly with boundaries. So as long as both partners are responsible and accountable their own actions. If you're able to separate romance and office life, dating your colleagues is perfectly fine. So don't limit yourself.
However, just like social circles, your demographic is severely limited to your colleagues. If you're an engineer (like many of my friends) then you're more likely going to end up working in an all male environment.
The Cold Market
Now, let me introduce you to my favourite subject and the point of this entire dating advice blog: the cold market.
There are tons of advantages to the cold market. Firstly, you can choose who you want to approach. You aren't reliant on external factors such as office politics or if she shows up to class or not. You have absolute control of who you are approaching and you aren't limited by any demographic.
Secondly, if you are out of University, not looking to rely on dating apps or agencies, then getting competent at the cold market isn't an option.
Similar Interest Groups and Networking Events
Starting out, I didn't really practice much of cold approach strangers on the street. I leveraged on University and interest groups such as yoga classes. Similar interest groups and social, networking events can be an avenue to expand your dating opportunities. The key here is to be bold in talking your target. Just go up and introduce yourself.
You can use:
There are events specifically for dating and singles such as speed dating events. However, I'll not recommend them as your first outlet as you're going to sacrifice a little on the quality of girls you'll meet at singles events. That's just an ugly truth. This is the same as using dating apps: the majority of quality girls aren't being chased, they aren't spending their time looking for partners in speed dating events.
Tinder and/or Online Dating 
In general, I don't use dating apps to meet women. I also don't recommend Tinder, online dating and dating agencies. Let's be brutally honest here, quality women aren't spending their time swiping right on Tinder. Here's an ugly truth about dating. It's all about economics: demand and supply.
Remembered your time in school where there are only a couple of of beautiful girls in your cohort and almost every single guy found themselves infatuated with the same couple of girls. There you go. Demand and supply.
The economics of dating suggests that beautiful women are always in demand. The majority of physically attractive, high-quality girls aren't staring at their phones on a Friday night. They are out at social events, at the most popular nightclubs and getting hit on by a ton of guys.
This is why if you're only relying on dating apps for your dating life, you're going to limit yourself to a certain demographic.
Secondly, if a beautiful girl is already getting so much positive social attention in her social life, you can also bet your last dollar that 99.5% of men in these apps are going to swipe right on her online dating profile. You're also measured and judged by a limited number of words and profile pictures on your Tinder profile. How are you going to stand out through a limited dating profile? You're up against negative odds.
However, assuming that you're stuck in a deadbeat and you require something to get you going. Using Tinder or other dating apps to get things going can be a good thing.
Dating Agencies/ Paid Dating Events
It can seem ideal, meeting Mrs perfect who is recommended by a 'trusted' someone or company. All you got to do is to pay the bills, show up and things will magically fall into place. However, reality often doesn't pan out that way.
I don't recommend paying someone $100 per hour to sit across a table with an unknown stranger. If you're not getting results in your relationships, what makes you think you'll actually be able to build a passionate relationship with someone that's recommended by someone determined by a 'dating resume'.
Ultimately, if you're reliant on dating agencies to hopefully meet someone, you're NOT developing yourself as a person, you just filling up a resume, hoping you show up and do well on a date. You aren't making any effort to develop conversational skillsets, overcome anxiety, build self awareness, develop social intelligence and confront of that difficult issues that brought you to a dating agency in the first place. Sorry mate, you'll be that EXACT same person who needed a middleman to fix you a date on a Friday night.
The Cold Market at Scale: The Cold Approach 
The cold approach is termed coined from the pick up artist community where you just walk up to a girl anytime, anywhere and introduce yourself. Getting good at the cold approach will open up your dating opportunities to almost anyone that's seemingly approachable. You can choose to meet girls on the streets, shopping centres and just about any daily mundane social situations.
The downsides of this philosophy is that the cold approach is a skillset you need to get down. You're not going to get good at this on your first couple of tries. This requires practice. Cold approaching is ideal. However, it's difficult. You'll need to understand the mechanics of sparking something out of nothing. This isn't just walking up any girl, throwing up a bunch of lines and hoping for it to stick. There's a process behind it.
Here's my guide on how to approach girls.
Note for an Asian reader: It's not uncommon for Asian parents to tell you to not to talk to strangers whilst growing up. Asians are commonly stereotyped to be more conservative, shy and withdrawn. This is further re-enforced by Asian culture: talking to strangers is a weird thing. For every stereotype, there's some truth to it. When I was traveling in Western cultures such as Europe and the United States, people are a lot more socially open as compared to Asian cultures.
However, you're not limited to your culture. If you want to get good at this, screw the stereotypes and take action.
I'll categorize meeting girls in clubs under cold approach similarly. That's because you're still attempting to spark something out of nothing.
It safe to say that you're going to get a more open response in clubs. It's a more socially acceptable action to approach a girl in the club. Women in clubs are expected to be approached. This is true whether be it in Singapore (my home country), or other parts of the world. Clubs are also meant to be meet markets.
The downsides of clubs is that it takes up a lot of time and money. That's because of the nature of clubs. If you aren't taking her home on that night itself, you're going to need to normalize your interaction with her to solidify your lead.
Closing Thoughts
I personally think if you want to get good at this, developing basic skillsets like starting a conversation with women in social events is going to get your results. However, if you really want to be great at this and have choice in your dating life, you need to get down the skillset of cold approaching girls. Lastly, meeting women is not just approaching or putting yourself infront of dating opportunities, you also have to curate a lifestyle you are proud of, present yourself positively and become an overall attractive individual.